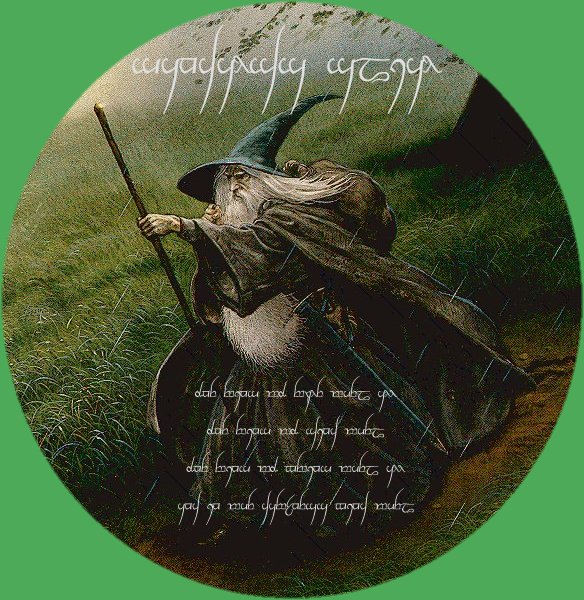 One Ring to rule them all.
One Ring to find them.
One Ring to bring them all
and in the Darkness bind them.
---
| | |
| --- | --- |
| | Stand by the grey stone when the thrush knocks and the setting sun with the last light of Durin's Day will shine upon the keyhole. |
---
UPDATE: 11/25/2004. It's been such a long time that I don't know what to say. I started the embryo of this humble website as my first internet experience ever, some 6 years ago. At that time, I just wanted to create something that would last, a site useful in itself that people could visit and enjoy. And I guess I did it. Obviously some parts of it never really worked out, like the Essays section, but time has made quite clear that this is an images site, and as such has done a pretty good job. When I last looked at my visit-counter, I think it was near 20.000 hits -and that for a quite unknown and anonymous website. Unfortunately, Nedstat apparently changed enough over the last few years so as not to preserve my account, or so it seems. More things have changed, and the old HTML code this site was made of has become outdated. I myself have other projects, a far better english, and soon a new personal website. (And by the way, I loved the Lord of the Rings film trilogy, specially the extended editions). Well, I suppose there isn't much left to say. I've decided to leave Gandalf's Smial nearly unchanged form the last real update, which was April 11th, 1999 -for historical reasons, so to speak. As long as I can, I'll make sure that this site survives.
UPDATE: 2001. Hello all! Welcome to my site and thank you very much for coming here. It's october 2001, and I can proudly say that my site has received 8300+ visitors since January 1999. It's the first time in about two years that I come back to mi old pretty little website, and I'm glad to say that it has fully achieved its initial purpose. To provide a source of high-quality Tolkien-art for every Tolkien-fan, like you and me. The list of different countries from which my site has been visited has reached sixty nations. Now, with the Lord of The Rings film about two months to be released, the Tolkien fever is reaching its top.
With a two-year-and-a-half point of view, I think I must feel happy about Gandalf's Smial. During the first months, it changed a few times. About two years ago I finally came to this version, wich I considered the finest, and unfortunately I havenīt updated the site since then. This is just because I can't find what to add, and I think that the Gallery section -the jewel of this site- works very well with its current design. So, although I have received many e-mails and comments from satisfied and delighted visitors, I'm afraid the site will remain the same, with no updates in sight.
Now, I want to tell every Tolkien fan that reads this, that we are going to enjoy in a way we haven't experienced before. We were all afraid about a Lord of the Rings film, because it could be a huge success, or a terrible fail. Fortunately, we can speak of real success with the film Peter Jackson is making. The only word I can think for what I've seen -trailers and pics of ths sets- is AMAZING. So lets be proud of him, and lets introduce everyone to our beloved land, Arda, and all its wonderful things.
Bye.

Essays
Sign My Guestbook
View My Guestbook
Last update: 25th November, 2004
Birth date: 23rd January, 1999